The elusive eponymous character, Mister Edwin Mark, was Clay's favorite TV star back when Clay was a child. We've only begun to reveal the importance of Television to the story and themes of "Mystery Mark." So it's a peculiar moment to see the performance of the first theatrical installation broadcast on an actual TV station.
Viscosity's premier run of the Mystery Mark theatrical installation, starring Ann Peacock, Chris Torma, and Margi Cates, along with the voice of Jeff Medley, opens on August 14th at the Downtown Dance Collective in Missoula, MT. The show will run for three days. Best of all, the show is absolutely FREE.
Feel free to check out our Facebook Fan Page for tons of images, videos and other information.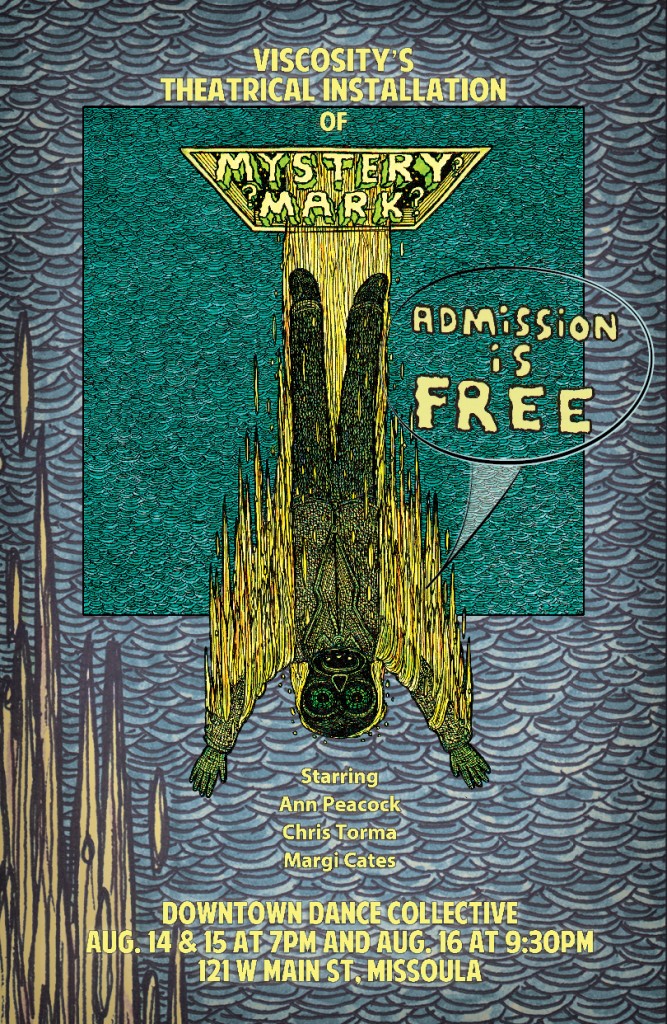 LOCATION:
Downtown Dance Collective
121 W Main St, Missoula, Mt 59802
(406) 541-7240
SHOWTIMES:
Thursday, August 14th from 7pm – 8pm
Friday, August 15th from 7pm – 8pm
Saturday, August 16th from 9:30pm – 10:30pm
Copies of the Mystery Mark illustrated novel will be available for purchase for the first time ever, along with t-shirts and prints of Theo's artwork.
The production is drop-in/drop-out. Arrive anytime, stay as long as you like, leave when you want. Along with the performance you will find a variety of secondary conceptual exhibits by Kate Morris, as well as a theatrical animation by Hugh Bickley playing in an adjacent room. The show features a live, original score by Cash For Junkers.
Viscosity Theatre's theatrical installation of Mystery Mark, a book by Josh Wagner and Theo Ellsworth, is Directed by Rebecca Schaffer and Art-Designed by Scott Morris.
For more information visit Mystery Mark's Facebook Event Page.
We hope to see you there! We hug you.
– Viscosity Theatre
Mystery Mark from Fiction Clemens on Vimeo.