Thanks to our 100 magnificent backers, co-conspirators, and word-spreaders far and wide, the Mystery Mark Kickstarter was a great success. Now it's time for a summer of serious challenges and hard work as we start building the heck out of the production.
Theo recently finished the front cover of the book, and here it is!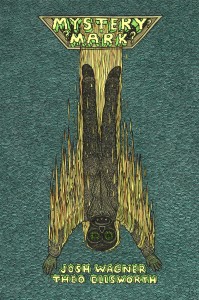 We're also excited to announce dates for the Theatrical Installation's first performance as part of the Zootown Fringe Festival.
Location:Downtown Dance Collective, 121 W. Main St, Missoula, MT
Show Times:
Thurs 8/14 : 7pm – 8pm
Fri 8/15 : 7pm – 8pm
Sat 8/16 : 9:30pm – 10:30pm
The performance will be on a loop. Come for the entire show or walk in/out anytime.