Some serious talent has come together to create Mystery Mark.
OUR CREATIVE TEAM: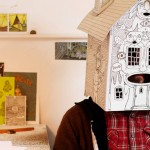 THEO ELLSWORTH
Co-Creator/Illustrator: www.thoughtcloudfactory.com
Theo Ellsworth is a self-taught artist and storyteller living in the mountains of Montana with a witch doctor, their son and a slightly evil cat. He developed his art while wandering the United States in a motor powered vehicle. He is uncommonly fond of clouds, monsters, trees, and impossible objects. He is prone to fits of whimsy, and his mind is filled with preposterous notions, yet he still manages to come across as semi-normal. He spends as much time as possible making comics, art zines, and imaginary phenomenon. His projects include Capacity, The Understanding Monster, Sleeper Car
JOSH WAGNER
Co-Creator/Writer: www.joshwagner.org
Education: Writing/Literature, BA, University of Montana
Bio/Experience: Josh Wagner is the author of five novels including Smashing Laptops andDeadwind Sea, three graphic novels, the first of which was his award-winning Fiction Clemens, and multiple stage plays including Ringing Out and Salep & Silk. He has also written and produced short films and short fiction. His full list of publishing and production credits can be found here.
DANIEL SCOTT MORRIS
Art Director: www.dsmorris.com
Education: Philosophy & Economics, BA, Columbia University
Bio/Experience: Scott is a visual artist who's early interest in images and narrative has led him on a circuitous path from black & white film photography, to studying eastern and western aesthetics, to the gallery worlds of New York City and Chicago, and now to Missoula where he creates concepts and designs sets with Viscosity Theatre. Scott works in as many media as he can get his hands on but particularly focuses on installation art, drawing, and collage. He's currently delving into the paper mache mask and puppet-making techniques of Bread & Puppet of Vermont. During his time in New York, Scott worked for the American Museum of Natural History, National Geographic, and the Guggenheim Museum.
REBECCA SCHAFFER
Director : www.rebeccaschaffer.com
Education: Theatre, MFA, University of Montana
Experience: Rebecca is an actor, director, and set designer who is based out of Philadelphia, PA but returns to Montana as often as possible for artistic projects. She is co-founder and Artistic Director of Viscosity Theatre, where she has directed smash hits Ringing Out, Crime in a Madhouse, and Thisillusionment. She thinks a lot about the development of live performance in a digital age, and how the reception of it is changing with our brains. Her work often explores the role of the audience and their relationship to the performers, within the context of the story. She is inspired by all things strange, fantastical, beautiful, common, and devastating.
NATE BIEHL
Music & A/V Director : http://www.imdb.com/name/nm5135920/
Education: School of Hard Knocks
Bio/Experience: Nate Biehl is a musician and multimedia artist from Buffalo, Montana. His CV includes credits for several US television shows, and his work has appeared on History,Discovery, Travel channel among others. Nate has been on-stage as a performing musician most of his life.  He's been in dozens of bands spanning multiple genres of American music. His current artistic passion involves producing installation art with video, photos, and sculpture.
CASH FOR JUNKERS
Original Score
Jeff Turman, Tyler Roady, John Rosett, Nate Biehl
DIEGO BURGOS
Theatrical Specialist and Jack of all Trades
Education: Drama degree from La Universidad del Valle
Bio/Experience: Diego is from Cali, Colombia, world capital of salsa dance. As a citizen from a developing country he also has a basic experience working in props and as a puppeteer. After working professionally for five years in Cali and Buenaventura, Diego moved to Missoula in September 2011. Two weeks later he met Rebecca who generously invited him to join Viscosity. Diego was a technician for Ringing Out and Crime in a Madhouse. He designed and ran the lighting for Crime in a Madhouse and ThisIllusionment.
SKYE BENNETT
Costume Design
KATE MORRIS
Dramaturge and Installation Conceptualist
HUGH BICKLEY
Animations 
CORY FAY
Sound Design
ACTORS
CHRIS TORMA:
Mister E. Mark
ANN PEACOCK:
Clay Searle
MARGI CATES:
The Doctor
JEFF MEDLEY:
The Voice of Mystery Mark
OUR ADMIN AND ORGANIZATIONAL WIZARDS:
HELEN MAGART
Stage Manager
Education: BFA: Theater Design Technology, Minor: Media Arts
Bio/Experience: When Helen was little, her dad sold books and her mom read to her every night. She still can't get her fill of brilliant epics, bad narratives, boring stories, and fascinating tales. From a deployment to Iraq with the Army, to working as a seasonal wrangler in Moab, UT; from the waxed floors of a long term care facility in Missoula, to Viscosity Theatre, she is in constant search of another story. Her stage management credits include "Cyclone" with Montana Rep., "Proof" and "Brighton Beach Memoirs" at The University of Montana's School of Theatre and Dance, and "Annie" with Summer Musicale. Since being invited to work with Viscosity, she has completely worn out the phrase, "I'm so excited." But, she really is!
LONI NEILSON
Production Manager
Education: Major: Technical Theatre, Minor: Psychology
Bio/Experience: Loni fell in love with theatre in high school where she built up the courage her junior year to audition for Gentlemen Prefer Blondes. To her surprise she was cast as the lead and had the greatest and scariest time of her life. She loved being onstage, but a year later she discovered the beauty of being backstage as a stage manager. In the past Loni has stage managed productions such as The Elephant Man, Distracted, Footloose, Willy Wonka and most recently Les Miserables. Theatre has a special place in her heart, in many ways it has saved her life. She has faith in the joy that the process brings to people, in the company and in the audience.
MEGAN BROWN
Marketing
We Also have the finest team of Volunteers and Builders, who appeared in a basket on our doorstep. Huge thanks to the efforts of these folks:
Diego Burgos – Mask and puppet design, and general problem solver
Nathan Boheme – Carpenter and wall-smith
Lauren Tyler Norby – Appliance Specialist (Clocks and Televisions)
Debby Florence – Fabulist, Clay mask painting, and paper mache miracle worker
Nita Maddux – Sorceress and paper mache whisperer
Sarah Katherine Anderson – World-traveling paper mache aficionado
Joy Olson – Maker of world's best bacon-wrapped dates and paper mache slinger
Samantha Cypher – Mystery Mark mask painting
Many thanks to the other beautiful souls who have volunteered their time and craftsmanship: Cory Fay, Jon Aaseng, Caitlin Hofmeister, Alex Anthony, Heidi Geil, Tony Gregori, Joe Keatinge, Leila del Duca, William Saylor, Kate Whittle, Alexsa Prince, Starr Erickson, Em Cohen, Daiana Ante, Patti Sorgi, Kate Scott, Aaron Renard, Pam Morris, Brennan Blake, and Gus Freud.